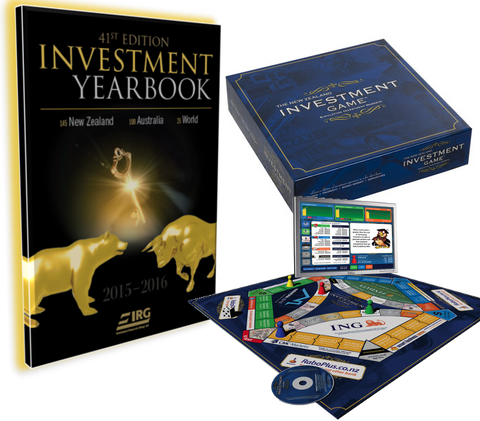 41st Yearbook + Investment Game Package
This package include our two Best Sellers!
The 2015-2016 Investment Yearbook and the Kiwi Owned and produced Investment Game
THE 41ST EDITION OF IRG'S INVESTMENT YEARBOOK 2015- 2016
It is that time of the year again when Investment Research Group (IRG) is proud to announce its 41st edition of Investment Yearbook 2015-2016.
The 41st Edition includes summary of 145 New Zealand, 100 Australian & 25 Recognised Global listed companies.
Find out information on Global brands such as
   -Apple      -Google      -Louis Vuitton      -Berkshire Hathaway     -BMW
Plus many More
Each page provides information on the Company's 5 years historical financial performance with addition of
Key statistics of the company such as Market capitalisation & PE ratio
Summary of the Company performance and Outlook
Dividend, Gross profit, Operating income and Earnings growth in last 5 years
Analyst Consensus on high, low and median share price
5 year graph of the performance
The INVESTMENT YEARBOOK is a great reference for any investor to review the history of these NZ, Australian and Global Stocks.
The Book is crammed full of Investment Information.
There will be facts that even the most experienced investor does not know.
It is a brilliant gift for uncles, aunties, fathers, mothers, or anyone interested in Investment.
It may be a student or simply someone who wants to learn.
It's a great Corporate Gift.
Investment Game
The NZ INVESTMENT™ Game is an exciting strategic investment game where big fortunes may be made!
Learn a lifetime of investment experience in a few short hours.
INVESTMENT™ is an exciting investment game that's fun and educational.
INVESTMENT™ combines the traditional board game approach with the sophistication of a software package that simulates the dynamic real-life investment environment. Every game is different, and every time you play your investment skill and knowledge will grow.
Who should play this game:
Anyone wanting to become financially independent.
Investors wanting to make their investments more profitable.
Those wanting to retire young.
Parents wanting to teach their kids about good money management and wise investment.
 FEATURES:
Real market data and thousands of investment scenarios so no two games are the same.
Interactive tips and investment advice from Frank Newman.
An investment performance report for each player so you can measure your success.
Online update for the latest game versions and market updates.
 PICK UPS FROM THE OFFICE ARE WELCOMED!
---