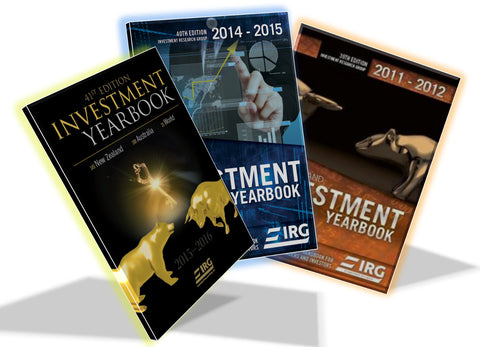 41st, 40th and 39th Yearbook Combo Deal
Special Prices
Grab the 41st, 40th AND 39th edition of the IRG Investment Yearbook for a Special price of $34.99! 
Find out information on Global brands such as
   -Apple      -Google      -Louis Vuitton      -Berkshire Hathaway     -BMW
Plus many More
Each page provides information on the Company's 5 years historical financial performance with addition of
Key statistics of the company such as Market capitalisation & PE ratio
Summary of the Company performance and Outlook
Dividend, Gross profit, Operating income and Earnings growth in last 5 years
Analyst Consensus on high, low and median share price
5 year graph of the performance
The INVESTMENT YEARBOOK is a great reference for any investor to review the history of these NZ, Australian and Global Stocks.
The Book is crammed full of Investment Information.
There will be facts that even the most experienced investor does not know.
It is a brilliant gift for uncles, aunties, fathers, mothers, or anyone interested in Investment.
It may be a student or simply someone who wants to learn.
It's a great Corporate Gift.
---